Fraud Prevention
Bad guys don't always need sawed-off shotguns and ski masks to commit a crime. Your Social Security number, personal info or social media posts  could be all they need.
Identity theft is the nation's fastest growing crime according to FBI statistics and identity theft/fraud is the fastest-growing category of Federal Trade Commission (FTC) complaints. Identity theft occurs when someone uses your personal identifying information, like your name, Social Security number or credit card number, without your permission, to commit fraud or other crimes. Fraud is an intentional deception made for personal gain or to damage another individual. Defrauding people or entities of money or valuables is a common purpose of fraud and can be committed in many ways including by mail, phone and the Internet (computer crime and Internet fraud).
If you are a CCU member and are a victim of fraud that may have affected your CCU accounts, contact us immediately by calling (715) 842-5693.
This page was developed to arm you with information so you don't fall victim to fraud as well as to show you what CCU is doing to help protect you. Education, good judgment and a healthy dose of skepticism are the best defenses against becoming a victim. You can also check our Facebook page regularly to see what new scams might be making the rounds.
---
Online Security
Safeguarding Your Information
In today's world, we enjoy the convenience and speed of sending texts, paying bills and shopping online. Unfortunately, this also comes with an increased risk of fraud. Cyber criminals are bombarding consumers with fraudulent messages and fake websites, planting harmful software on computers and doing everything they can to collect personal information and passwords from unsuspecting people. This information can then be used to perform an "account takeover" or otherwise give criminals access to your financial accounts and information.
Please take a moment to read this important information on how to keep yourself safe when conducting business online, both on Cloverbelt Credit Union's home banking and bill payment sites and on the Internet in general. You can lessen your fraud risk by doing the following:
Select an adequate password, which is a phrase, or a combination of upper and lower case letters, numbers and characters that is not easily guessed. Change your password frequently and don't write it down or share it with others.
Never share personal or account information, or online banking login info with friends you meet online. This is a significant source of fraudulent checks, ACH deposits, account takeover and money lost to scammers. 
Do not open links unless you requested them or are certain of their origin. Many programs that criminals use to capture user names, passwords and personal information are disguised as a fraudulent link.
Keep virus protection software current on your computer or phone so the latest threats will be quickly identified and removed.
Use a bookmark or type the web site address manually when using online banking and bill payment services. Never use an emailed link even if it appears to be from your financial institution. Criminals can easily create a fraudulent web site that appears legitimate and use that to collect your passwords and personal information.
Log out of systems when you are done. Just closing the browser window may not protect you from fraud.
Monitor your account activity frequently to ensure no fraudulent transactions have taken place.
Don't answer social media posts or surveys asking for your pet's name, favorite vacation spot, graduation year and the like. These are harvesting your personal information. 
Businesses that use online financial services may be open to additional risks that should be assessed on a regular basis. This may include reviewing which employees have access to passwords, where passwords are stored, the possibility of internal theft or fraud and procedures for terminating access for former employees.
What to Expect From Cloverbelt Credit Union 
Our employees and third party vendors will NEVER call, email or otherwise contact you and ask for your user name, password or other online banking credentials, debit or credit card PIN or other confidential access information.
Rights and Responsibilities
With respect to online banking and electronic fund transfers, the Federal government has put in place rights and responsibilities for both you and the credit union. These rights and responsibilities are described in our Electronic Funds Transfer Disclosure which is available at any Cloverbelt office. It provides details for consumer liability limits for unauthorized transfers, the steps you need to take to resolve an account error and more. To take advantage of these protections, you must act in a timely manner. It is your responsibility to contact us immediately at (715) 842-5693 or (866) 214-1395 if you notice suspicious account activity or experience security-related events.
---
Check Fraud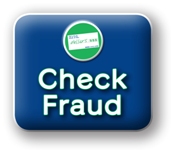 It is our policy to make funds available to you on the day your deposit is made. However, we reserve the right to delay the availability of funds deposited by check or draft. We will notify you if we choose to exercise this right and will tell you when the funds will be available. Generally, funds will be available within fifteen (15) business days from the date of the deposit.
Please understand that check holds are used to protect the credit union and our members from incurring a loss. Altered, counterfeit, stolen and non-sufficient funds checks are presented frequently and check holds have saved unsuspecting members and the credit union from losing thousands of dollars. Cashier's checks, money orders, traveler's checks and credit card convenience checks are not considered "guaranteed funds" and, along with personal and business checks, are subject to a hold. If you have questions about our funds availability policy, please ask before making your deposit.
The following items are highly suspect:
Checks received from an online 'friend'  are usually fraudulent
Checks for items sold over the Internet, especially if the buyer sends more than the sales price

Unsolicited checks for winning prizes or lotteries, an inheritance from an unknown relative or where the sender is not personally known to you

Checks or money orders where the sender asks you to return a portion of the funds back to them.
If you receive a suspect check, the credit union can assist you with determining if it is valid. For more information about fraudulent checks including tests to see if you're at risk, check out this article 
Fake Check Tips
---
ATM & Debit Card Safety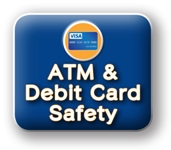 Using your ATM or debit card is a simple, hassle-free way to get cash, check balances, make purchases and more. To enjoy the many conveniences electronic banking offers, you should make ATM and debit card safety a priority. Here are some important safety tips:
Treat your card like cash and keep it in a safe place.

Keep your PIN a secret. Don't write it on your card or keep it in your wallet or purse.

Don't disclose any information about your card or PIN over the telephone or in response to an unsolicited email or request.

Use our CardValet app to turn your card on and off, set transaction alerts and report card fraud. 
Never allow a cashier or any other person to enter your PIN for you, even if they are assisting you with a transaction.

Always observe an ATM's surrounding before conducting a transaction.

Block the view of others while using the ATM.

If you're at a drive-up ATM, keep your doors locked and engine running. Roll up your window as soon as your transaction is completed.

If you see anyone or anything suspicious, cancel your transaction and leave the area at once.

Be certain the transaction is complete and review your receipt before leaving.

Report a lost or stolen CCU MasterCard debit card at once by calling 1-833-462-0798.

Review your account statements or use our CardValet app to look for unauthorized transactions and notify us immediately if any are discovered.
---
Identity Theft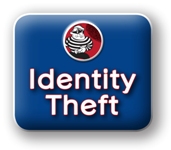 Identity theft is the misuse of another person's identifying information. In true identity theft, an identity thief uses another person's Social Security number and other identifying information to fraudulently open new accounts for financial gain. Victims may be unaware of the fraud for an extended period of time, which can allow the criminal to continue the ruse for months or even years. The criminal can use the victim's identity to open credit cards or loan accounts, to work, receive medical care and commit other types of fraud.
Take these precautions to protect your information:
Be cautious when providing personal information such as your Social Security number and account or credit card information over the phone, in person, on the Internet or elsewhere. Don't give out this information unless you are sure with whom you are dealing.

Protect your Social Security number and the Social Security numbers of your children and other family members by not carrying them in your wallet. Same goes for your passport and birth certificate.

Report lost or stolen checks, credit or debit cards immediately. Cloverbelt Credit Union can block payment on the check numbers or account numbers involved.

Limit the number of pre-approved credit card offers that you receive by removing your name from the marketing lists of the three credit reporting bureaus. You can remove your name from all three by visiting www.optoutprescreen.com or by calling 1-888-5OPTOUT (1-888-567-8688). You can also contact two of the agencies individually at the addresses listed below :


Equifax Information Services LLC P.O. Box 740123 Atlanta, GA 30374-0123

TransUnion Name Removal Option PO Box 505 Woodlyn PA 19094

Store checks and account statements in a safe place. You may also consider enrolling in eStatements, the safe, convenient way to access your credit union statements electronically.
Don't respond to suspicious phone inquiries such as those asking for account information to "verify a statement" or "award a prize."
Review your credit report at least once every year. Make sure all information is up-to-date and accurate. You can receive a free copy of your credit report once every 12 months from each of the nationwide consumer credit reporting companies: Equifax, Experian and TransUnion by visiting www.annualcreditreport.com.
Tear up or shred any pre-approved credit offers to which you do not respond. Thieves can use these offers to assume your identity.
Keep mail secure. Don't mail bills or sensitive information from your home or unsecured mailboxes. Retrieve and review your mail promptly. Thieves may use the personal information contained in your mail to steal your identity.
If you do not receive your regular bills when expected, call the company to find out why.
Review your monthly account statements thoroughly. Investigate suspicious items immediately to head off any possible fraud before it occurs.
---
If you would like more in-depth information, here are some additional websites that may be of value.
Federal Trade Commission Get tools to fight back against identity theft and find out how to file an FTC identity theft complaint. www.ftc.gov